+540M
of Population served across 40 countries through 6700 Healthcare Organisations
+57M
of Inpatient Admissions per year
+270M
of Outpatient visits per year
+4B
of diagnostic results per year produced from 5700 Labs and diagnostic centers
+35M
Emergency Admissions per year
DEDALUS SUPPORTS ITS CLIENTS TO DELIVER VALUE
FOR EACH ACTOR OF THE HEALTHCARE ECOSYSTEM
People and their family
• Positive experience of care
• Accessible and seamless
care
• Excellent outcomes
Healthcare Professionals
• Safe and supported care
• Productive work
environments
• Supported Best Practices
Healthcare, Social and Life Sciences Organizations
• Productive resource use
• Safe and consistent care
• Patient & staff satisfaction
• Improved research impact
National/Regional healthcare systems
• Population Health
• Value for Money
• Sustainability
Society
• Reduced Health
Inequalities
• Environmental Impact
• Affordable and high-quality
services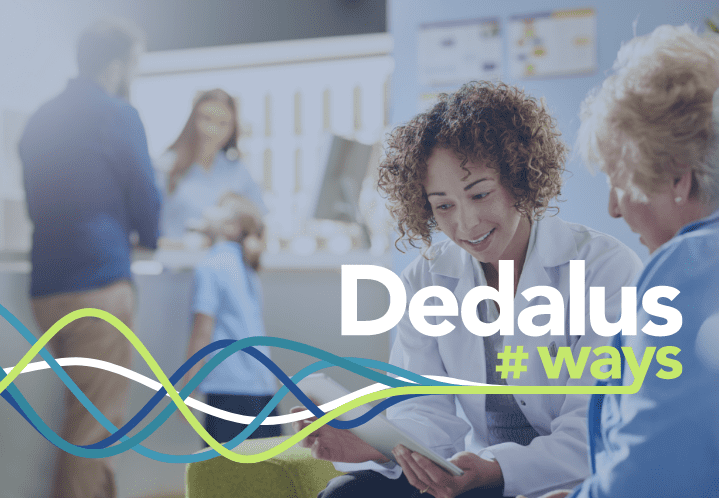 Our Approach:
Dedalus #Ways
The new Dedalus #Ways approach allows us to bring value to all the actors involved in the Healthcare ecosystem, creating a unique flow of information that ensures the best outcomes in each phase.
Dedalus #Ways
A UNIQUE APPROACH: THE CONTINUUM OF CARE
The radical change: from the
"episodic centric" approach to
the "continuum of care".
A wide and comprehensive approach to deliver true integration of services across the Continuum of Care, through a dedicated platform that offers full semantic interoperability based on Open Standards (FHIR) that enables the modernization of existing applications and the creation of an open ecosystem of solutions in a "API Economy" model.
Find out more
Prevention

Early Detection

Diagnosis

Treatment

Rehabilitation

Follow Up

End of Life
For more information about Dedalus solutions available in the different markets, please select the country of interest: